NPC Alignment
NPC Alignment describes the opinion that every NPC character in the game has towards the player. A NPC's opinion can be seen when hovering the mouse over an NPC. Most NPCs, by default, will be neutral towards the player.
As of version 88, hostile NPCs have a red circle beneath them and aligned/loyal/submissive NPCs have a green circle, making it easier to identify their alignments without having to hover the mouse over them or hold down spacebar. These visual cues can be turned on or off using the "Alignment Circles" option in the gameplay settings menu.
Listed below are the 6 different types of alignment that NPCs can have: 2 are aggressive, 4 are peaceful. Each have unique properties that determine how NPCs will react with each other and the player.
Friendly describes when an NPC has mild affection towards you.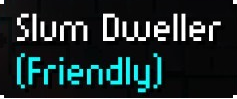 Friendly NPCs will allow you into their property without problems. However, stealing from said NPCs will turn them hostile. Smashing things will also anger them.
10% discount when hiring or buying from them
If already made friendly with items or trait, Bouncers don't need bribes to enter buildings.
Mobsters will not demand your money.
Thieves won't steal from you.
Vampires will not bite you.
Interactions:
Bribing a Bouncer will cause him and everyone in the building he's protecting to be friendly.
Setting a Slave free (when you buy slave from Slavemaster only).
Completing an optional Mission.
Buy a Round in a Bar, Pub.
Asking a Loyal NPC to leave town and him declining will cause him to be friendly.
Asking an NPC for a key and/or safe combination will cause all NPC's aligned with them to become Friendly towards you.
Items:
Traits:
Special Abilities:
Loyal describes when an NPC will fight for you, but won't follow you around unless they were hired.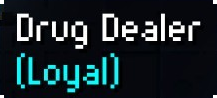 Loyal NPCs will mind their own business, but will fight for you if they see you under attack or spot other characters that are hostile towards you. You can also enter their property whenever you want and take their stuff with no repercussions. You also receive a 20% discount when hiring or purchasing items off them. You will have a 70% success chance when asking someone to leave town. However if they refuse they will become friendly.
Interactions:
Hiring characters of a different class like Gangsters, Soldiers.
Serve Positive Effects drinks to Friendly NPC. (see Bartender)
Traits
Aligned is when people have the highest possible affection towards you.

Aligned NPCs can follow you around and fight for you or act as if they were Loyal, wandering around and only attacking others whom are hostile towards the player. They also provide a 30% discount when hiring or buying from them and will allow you to enter off limits buildings as long as at least one person inside is aligned with you, Aligned [[Slavemaster]]s give you one of their slaves for free (and only one) and NPCs you ask to leave town will always leave.
Characters:
Interactions:
Items: Hypnotizer Mark II
Buildings:
In a building with Gangsters of the same faction every other NPC is Aligned (reverse to Annoyed section)
Traits:
Special Abilities
Possess (when used on an NPC with alignments to other NPCs)
Submissive is similar to aligned, though can be achieved through the use of Enslave or Shake Down.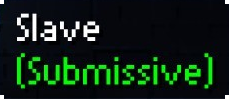 Submissive NPCs will follow you around, but they won't fight for you unless they get hit, in which case they will retaliate against the person who hit them. Note that if you used the ability enslave to enslave people, they will randomly commit mutiny which turns them Hostile. They will offer you a 40% discount when purchasing from.
Interactions:
Special Abilities:
Annoyed describes the Alignment when an NPC has a low affection towards you.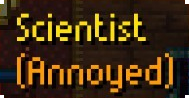 Annoyed NPCs will chase you out of their property and refuse to talk with you (they will still talk to you if you are playing as a Mobster). Ignoring an annoyed NPC's demands to leave their premise will result in them turning hostile towards you.
Buildings:
Entering any house not owned by someone who is friendly with you will result in the owner asking you to leave as well as them being annoyed.
Traits
Hostile is the worst possible relationship that the player can have with an NPC.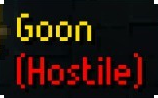 Hostile NPCs will attack you on sight and will continue to chase you unless you outrun them.
Buildings:
Characters:
All Characters will become hostile if they catch you attacking them or someone they're aligned with.
Cops will attack you on sight if they catch you breaking the law.
Interactions:
Damaging property.
Not leaving when the owner is annoyed at you.
Stealing their items.
Taking out a loan. (Assassins will eventually come and attack you if you don't pay your loan)
Items:
Traits
Special Abilities:
Hostile was originally known as "Hateful".